Customer engagement has been top of mind for businesses since the rise of online marketing tools, and even more so recently. It used to be that marketing only went one way. Companies and organizations would blast content they thought was important via mailed brochures, special offers, and in-store promotions. Since then, businesses everywhere have realized the power of customer loyalty and the need to build personal relationships that extend beyond transactions.
Firstly, let's talk about engagement.
You can think of customer engagement as the process of interacting with your clients or customers, through various channels, as a way to strengthen your relationship with them. In this post, I'll be looking at this definition a bit more broadly and will expand this to apply to current customers and potential customers. Depending on the type of business you operate and the specific tactics you use, this could provide an opportunity to regain previous customers or clients.
"I DON'T HAVE THE TIME OR THE MONEY TO INVEST IN ONLINE MARKETING. EVEN IF I DID, I JUST DON'T KNOW HOW I'D EVEN GO ABOUT IT."SMALL BUSINESS OWNER, ANYWHERE
Here are the top 3 ways to increase customer engagement using affordable online marketing tools – all without breaking the bank!
1. EMAIL NEWSLETTERS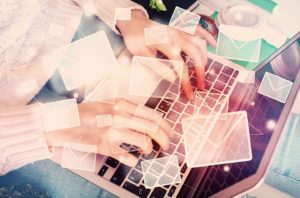 You've probably heard this a thousand times – email is king. But within everything that could be included under email, I want to focus on email newsletters specifically. Why? Because email still constitutes the number one, most effective way for businesses to reach their audience and continues to improve year-over-year. Plus, it could be one of the most cost-effective ways of communicating consistently (with providers like Mailchimp and Gmail, and even WordPress plugins, offering free mass email options).
Here are some expert resources to help you create effective email newsletters:
2. WEBSITE CONTENT
Your website speaks volume about your business. In some cases, it's the first and most reliable source of information that potential customers have about you. So make sure it leads your audience to an action like subscribing to your newsletter (see #1), reading an article or other content from your site, or buying your product or service. You can do this by optimizing the design of your site so that it's mobile-responsive and visually appealing. Also ensure that it has a good number of calls-to-action and embedded forms. And finally, invest the time and resources in optimizing your content. This will improve your overall search engine optimization and boost your site ranking.
Use these quick tips to improve your website:
3. SOCIAL MEDIA
Despite popular belief dating from the early 2000s, social media is here to stay. And to increase loyalty for your business through social media, building trust and credibility needs to be a consistent part of your social media strategy. There's a lot more to say about social media, but for now I'll leave you with this.
Here are solid strategies to help you tackle social media like a marketing pro:
"Customer Experience = Success + Effort + Emotion"BRUCE TEMKIN
Building engagement with your audience is incredibly important for your business' reputation. It helps build loyalty, brand recognition, and at the end of the day, profitability. A large number of studies show that emotions, more than say fact or rational analysis, influence our purchasing decisions. And according to some, an improvement in the emotional connection you have with your customers could increase loyalty more than any other factor.
Your online marketing tools can take many forms.
There are plenty more ways of using online marketing tools to build engagement, including responding to customer reviews (especially the negative ones), effectively using Google My Business, and more. However, these top 3 tools will give you the most bang for your buck. They're relatively easy to implement, even for a team of one, and will put you in a great position to build a long-term, engaged, and above all loyal relationship with your audience.
(Visited 123 times, 1 visits today)